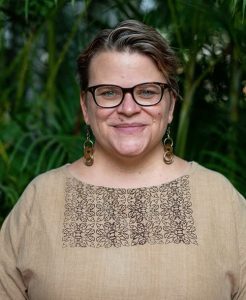 PhD (University of Edinburgh)
Dr. Lisa Arensen is Assistant Professor of Environment and Sustainable Development in Southeast Asia.

She is a social anthropologist and her research focuses on communities that have experienced environmental change, war, and displacement. Her particular expertise is in Cambodia, where she has worked and done research for nearly two decades.
Dr. Arensen's work explores issues of vulnerability and resilience in social, cosmological, and biophysical terms, especially as regards community dynamics and complex and shifting relationships with natural and sacred landscapes.

Her current research focuses upon communities dwelling in protected areas. Current projects include changes and continuity in traditional botanical medicine use and the role of animism in agricultural and development practices.
Dr. Arensen is also engaged in documenting histories of environmental change in protected areas in highland and lowland Cambodia, with indigenous Bunong communities and the Khmer ethnic majority.
     • Environmental, cosmological and social change in indigenous communities
     • Traditional ecological knowledge
     • Globalization, social justice and cultural change
     • Post-conflict recovery and resilience
     • Human trafficking and migration
Journal Articles
Lisa Arensen  (forthcoming 2021). Living with Landmines: inhabiting a war-altered landscape, in press with The Journal of Material Culture
Lisa Arensen (2020). The Things that Remain: encountering ruination and remnants in a post-conflict landscape in Western Cambodia. Asia Pacific Journal of Anthropology, Vol. 21, Issue 3: 264-279. [https://doi.org/10.1080/14442213.2020.1755890]
Lisa Arensen (2017). The Dead in the Land: bodies, bones and ghosts in northwestern Cambodia. The Journal of Asian Studies, Vol. 76, Issue 1: 69-86. [https://doi.org/10.1017/S0021911816001662]
Lisa Arensen (2016). 'All Newcomers Now': narrating social and material aspects of post-war resettlement in northwest Cambodia. Journal of Southeast Asian Studies, Vol. 47, Issue 1: 24-41. [https://doi.org/10.1017/S0022463415000454]
Lisa Arensen (2012). Displacement, Diminishment, and Ongoing Presence: the state of local cosmologies in northwest Cambodia in the aftermath of war. Asian Ethnology, Vol. 71, Issue 2: 159-178. [Access]
Book Reviews
Lisa Arensen (2019). Review of Nancy J. Jacobs, Birders of Africa: history of a network. Africa: Journal of the International African Institute, Vol. 89, Issue 1: 191-193.